I'm moving out of my apartment next week and I'm trying to lighten my load. I'm giving away most of these things listed below. Anything I can't sell / offload will go to the Sally Ann / dumpster (recycling if possible) / storage. Maybe the treaure you never knew you wanted awaits. Email me if something catches your fancy.
Note some photos are approximations of actual goods. Hover your mouse over them for a few seconds to see a description, or check the list below each group. Some items do not have photos.
For Sale
Lava Lamp, yellow in clear, works perfect (no little bubbles or anything), brand name. $20
Office-style desk, two-part with multiple configurations, keyboard tray, hutch. Used 1 year. $50
Executive office chair, tilt and lumbar, mesh back, adj. armrests. $50 (retail $200)
For Free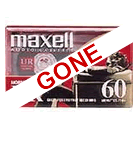 Beer fridge
Matt board, new: small pieces and one large neutral grey sheet, new.
Clip-style picture frames: four 8×10″, two 5×7″
Gravis 4-button joystick, (serial port)
Rolleiflex SLR film camera, complete kit with two lenses, filters and case, 1970s era
Computer speakers
Xmas decorations (holly, bows, lights)
Office chair, 1970s-era, swivel and tilt, steel construction, though springs in cushion shot
Blank tapes, never opened, two Sony 74min, four Maxell 60 min
Video camera bag, small, unpadded
Vinyl records, about 20, assorted rock and folk
Binoculars, 7×50, with case
Mountain bike straight handlebar, Easton carbon fibre, 5 degree bend, 125g
DDR dance pads, aftermarket for Play Station but modified for computer serial port
Course pack, HA 337 Special Topics in Contemporary Asian Art, unopened, instructor Astri Wright
Dress shoes, Bally, size 10.5, alligator leather
Dinner jacket, black, wool
Sports jacket, black nylon
black dress pants, 32
khaki pants, with cuffs, 34
corduroy vest, medium
Nautica fleece, large
Knitted sweater
green army-style pants
Care to Borrow / Mind Storing for me a bit?
BBQ, Webber charcoal kettle-style, with charcoal
Egyptian water pipe
Cycling poster, dry mounted
Related: