Silver Circle Bicycle Diary
[See Part 1 Silver Circle Bicycle Tour for details of the trip]
This was my third bicycle touring trip after having ridden from Victoria to San Diego in 2005, and across Java, Indonesia in 2007. For this adventure my friend Hector planned the first half of the route to Banff, leaving from his cousin's house in Chiliwack to avoid the Vancouver traffic. Our friend Mark joined us for the first day. After Hector flew back to Vancouver from Banff I carried on alone for the return trip with a stop at my hometown of Nelson on the way.
The following are my brief notes taken during travel, as well a spreadsheet detailing distances and times per leg (for those interested in riding this route).
Day 1 Chilliwack to Lytton
9:30 Chilliwack
11:30 Hope.
13:30 Yale
19:30 Lytton
4 flats (2 Mark / 2 Hector)
1 bear
BIG tailwind
4 small/medium climbs
10 hours outside. Dinner at the Chinese diner, plus a couple beers and camping. Bought bagels, beans, canned fruit and bananas for tomorrow.

Hector and Mark change one of four flats for the day.

My view for half of the first half of the trip, aka Hector taking a pull.

Our campsite just outside Lytton.
Day 2 Lytton to Kamloops
7:30 Lytton
11:45 Cache Creek
14:00 Just before Savona
18:00 Kamloops
Mega tailwind to Cache Creek. Big headwind Cache Creek to Savona. 2 big climbs (one pretty big). Bought a patch kit, bar of soap, couple energy drinks and a beer at the Commodore in Kamloops.

My on-a-budget dinner, beachside in Kamloops.
Day 3 Kamloops to Sicamous
8:45 Broke camp
9:15 Breakfast @ Rocksalt in Kamloops
10:40 Leave Kamloops
12:40 Arrive Chase
3:40 Salmon Arm
5:40 Leave Salmon Arm
6:30 10km west Sicamous
Breakfast in Kamloops (huge), groceries: muffin, bananas, yoghurt, prunes. Then later strawberries, cottage cheese, chicken, havarti, tomatoes, cheese buns, potato salad.

Pioneer breakfast at the Rocksalt in Kamloops.

Bathing at the second-nicest campsite of the trip, which we found just off the highway.
Day 4 Sicamous to Canyon Hot Springs
7:05 Leave creak campsite
7:30 Breakfast in Sicamous
8:40 Leave Sicamous
9:40 Craigelache (Last Spike)
12:00 Revelstoke (Panini, soup at The Modern, warmed up for a couple hours)
15:30 Leave Revelstoke
17:00 Arrive Canyon Hot Springs
Bought a muffin and coffee, groceries: bagel, bun, cheese, liver, pear, crackers, chicken, tomato, couple yoghurts. Paid for shower at campsite.
Day 5 Canyon Hot Springs to Yoho National Park
8:15 Leave Canyon (bottom of Roger's Pass)
9:40 'true' pass bottom
10:00 Pass top
14:15 Golden (BC time)
15:15 Finish lunch at The Turning Point in Golden. Monte Cristo with soup and fries.
18:15 Arrive Hoodoo Creek campsite in park. Stunning scenery, but no sleeping on grass allowed.
West side of Roger's Pass a joke. Got all psyched and prepared over past 4 days for nothing. 6% for a few km. 3 flats! One tiny wire and thorn, slow leak, one big nail for Hector, 1 big spike for me. Tailwind last 25km. Gorgeous. Groceries: 2 bagel, 1 banana, 1 yoghurt, 1/2 cottage cheese, 1 dessert. $8 for campsite ($16/2).

Hector's flat for the day: big ass nail that made his rear wheel hop off the ground with each revolution.

The most spectacular scenery of the trip, Yoho National Park campsite at Hoodoo Creek.
Day 6 Yoho to Banff
7:15 Leave campsite
17:00 Arrive hotel Irwin Motor Inn (400 block Banff Ave.)
Dinner and beer with friend Alistair, who is managing his race team at the Banff race that weekend. Bought lunch at Lake Louis, too (burger fries coffee). Cold and got really cold. Rained. Met Al at Lake Louis just as his team finished the 80km road race. Rain got worse on way to Banff. Legs pretty sore, felt like Popsicle.

Banff Criterium. Weird feeling hanging out on an old bike with panniers instead of being on the start line.

Alistair, friend and director of H&R Block Kona, directs his riders via radio during the criterium.
Day 7 Rest Day Banff
Watch some bike racing, watch some TV, drink at night.
Day 8 Banff to Cranbrook
8:50 Leave Banff hotel
9:50 Highway 93
13:40 Arrive Radium
16:30 Canal Flats
21:20 15km West of Cranbrook
Cold, wet start. Bye to Al and Hector after night of heavy drinking. Flat 30km to Highway 93, 6% climb for 20 min., then basically all downhill to Radium including one section near beginning that went down, down. Last 10k into Radium also fast. In Radium: soup, pie coffee at Husky. Groceries: pizza pretzel, pear, cottage cheese, powerade, 2 banana. Subway 6″ in Cranbrook + 3 cookies (like the good ol' days!). Stopped a few times just enough to make it another 20km or 1 hour. Mostly all downhill and no wind either way. Pulled off at exactly 300km on side of road near Indian Reservation and tracks. Totally misjudged Nelson-Banff distance, not 400km but 500km! By 100km I committed myself, though. Hope the concrete in my thighs doesn't set before 220km tomorrow. Hope Moms is home. Also: 3 deer, 1 moose, 1 wolf.

Pretty much all downhill to Radium.

Staving off the bonk and cold at the Radium Husky diner. Good service, too.

Just outside Cranbrook I finally hit 300km for the day, my longest ride to date, and promptly found a dirt road and a clearing to set up camp just as dark descended.
Day 9 Cranbrook to Nelson
8:30 Leave campsite
10:00 coffee, muffin, yoghurt in Yakh
12:00 (mtn time) Creston. Coffee Creak Cafe panini, coffee, bortsch. 1/2 headwind, miserable drizzle and cold. Cold flat wet desperate. Hard day. Flatted with no extra tubes, one patch left. Had to find home to warm up in. Bonk before ferry. Bonk again after ferry. No gloves. Only three jerseys.
20:30pm Arrive Nelson (well, South Slocan, where Moms lives)
Day 10 Rest Day Nelson
Food Eat Sleep. Dinner with Coens and Mom. New bearings for front wheel, two new tubes.
Day 11 Rest Day Nelson
Nice 45km ride around Nelson and area. Feel meh and sore and OK.
Day 12 Nelson to Rock Creek
7:50 Leave Moms'
12:10 Arrive Christina Lake. Legs all over dull and stiff and ache.
16:15 Greenwood. Missed Copper Bakery by 15 min.
18:00 Rock Creek.
Groceries: bagel, pasta salad, yoghurt, cheese, pepperoni sticks, pear, cottage cheese. Pizza at Greenwood. Asked lady at Rock Creek fruitstand for water, let me camp in her yard (not the first cyclist to do so). Toddled down to junction for bath in creek at park, dinner. Shitty $4 ice cream sundae from cute girl. Slight to medium headwinds, or no wind, cloudy and sunny. Legs better after descent and warmth. Nap 30 min at Christina Lake. Was nervous last night, kept waking up in anticipation.

A gradual 40km from Castlegar to top of the (Blueberry) Paulson Summit, elevation 1535m.

Typical scene: picnic table strewn with dinner, bike clothing after bath in creek.
Day 13 Rock Creek to Princeton
7:30 Broke Camp. Climb 1.5-2 hrs or so to Anarchist Summit. Slow leak in rear fixed on decent (cold!) to Osoyoos. Egg crioussant and coffee at crappy Chinese bakery.
13:00 Rode with some Tri guys, dropped 'em.
14:00 Keremeos.
15:30 Hedley. Fucking huge headwind just after Osoyoos decent. Struggle and anger. Averaged only 22.6km/hr!
18:00 Princeton. Locals ain't very friendly, camping expensive and otherwise sketch. Ate dinner on a bench in town. Fuck, trying now to camp near info centre. Makes me look creepy AND creeps me out. Groceries in Osoyoos: 2x yoghurt, pizza bun, danish, pear, 2x banana, rice salad, sausage roll.

Quite a bit of climbing to Anarchist Summit (1233m) before descending the much steeper grade into Osoyoos.

The descent into Osoyoos.

Trying to hide myself from police, pedestrians and rednecks in the uncomfortable town of Princeton.
Day 14 Princeton to Vancouver
7:30 Leave Princeton
1:30 Arrive Hope. Talk and pass Texan cyclists (Bryce and Kelly? MA Arch and Biz). Stopped 15 min at Manning Resort.
23:45 Arrive Kits in Vancouver. Long story. Wet dark epic 336km.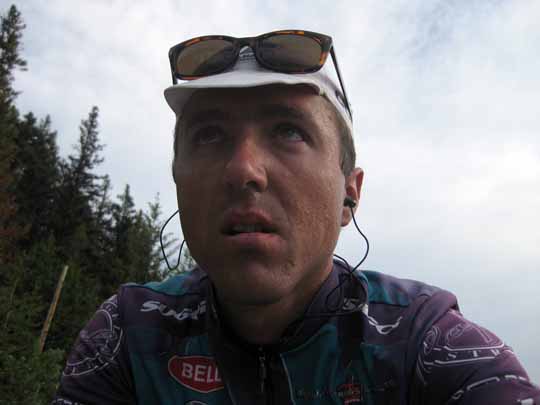 Had been preparing for this hill up the mine outside Princeton for days. Here listening to Philip Glass' Einstein on the Beach.

Out of nowhere in the flat farm lands of the Fraser Valley comes this 11% 1km hill on the Lougheed Highway. Unfortunately had to go up it, too, after having already done 200km.

Midnight at home immediately after the longest ride of my life.

336km woot. Thank you Tim Hortons and gas station energy drinks. No thank you Greater Vancouver highway system.
Related: