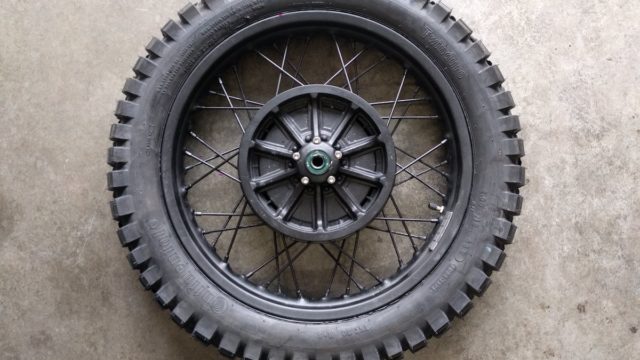 R80 21 Wheelin' and Dealin'
Rubber fun: got the new tires mounted.
The Boss wanted big and knobby, so ordered up a set of Continental TKC80 Duro tires, size 4.00-18 on the rear and 100/90-19 on the front, for $280 CDN. By all accounts these are great tires for what they can do and, if the reports are to be believed, still OK on the road. End goal is two sets of wheels, one for gravel and one for street—for now we ride the fun tires. Got them mounted and balanced by Spero at Modern for $100.
Side note: Took an Evo to run errands and check in at Modern to confirm tire mounting, then walked, then two buses to a Modo car rental, then pick up the wheels at the garage, the tires at home, return to Modern and…wait three hours (they were busy), then rental back to garage, return rental, walk to garage, Skytrain home. Ask me about transportation.
Side side note: don't piss off Spero.
Got the new larger rotor for the DR650 brakes, and having a custom cone made—the old airhead rotors are riveted. With the rubber now on I mounted the wheels. Still figuring out proper procedure for tightening down the front end. Fairly standard order for tightening the triple clamp, and a separate order for tightening down the axle, but what if you need to do both? General theory is let the fork rest where it likes, then button it down, but which should you do first? On the other hand these are pretty flexy forks, so I hear it's not a huge deal.
Clearance on the 4″ wide rear tire is OK—about 8–10mm on the right side of the swingarm. Clearance up front, side to side at least, is ample. Of note it looks a little off-centre—will check with our man who made the custom spacers, or maybe that's intentional? That reminds me to still overhaul the front wheel bearings.
First ride!
Related: